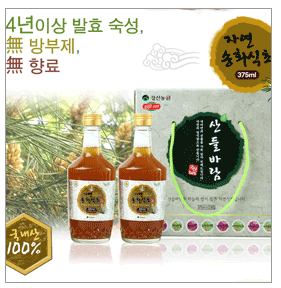 Pine Shoot (90%), Oligosaccharide (10%)
Period of Circulation: Two years from the production date
Pine flowers bloom between March and April and can be collected
for 15 days per year.
Before pine pollens are flying, pine flowers are collected from March
to early April and then aged in traditional pots for more than
three years.
Thanks to its soft taste and flavor, you can drink it by diluting it with water or can be used as dressing to create a unique taste.



Dilute Songhwa Vinegar four or five to one with water, milk or juice, and drink it.
Also, Songhwa Vinegar is good for dressing, seasoning or preparing various sauces. Drink it and live an energetic life.