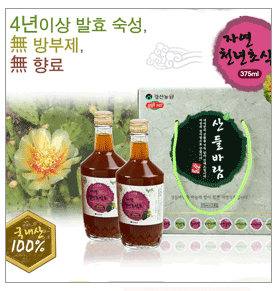 Estern Prickly Pear Stem (80%), Estern Prickly Pear Fruit (10%),
Oligosaccharide (10%)
Period of Circulation: Two years from the production date
We grow estern prickly pears in Geogeumdo Island without pesticide or chemical fertilizers. Then they are aged in the traditional pot for more than three years.
Rich in fiber and calcium, Cheonnyeoncho Vinegar is fermented in the traditional pot to create its own unique flavor and taste.



Dilute Cheonnyeoncho Vinegar four or five to one with water, milk or juice, and drink it.
Also, Cheonnyeoncho Vinegar is good for dressing,
seasoning or preparing various sauces.
Drink it and live an energetic life.